Take what others may perceive as a disadvantage and turn it into an advantage.
As a deaf or hard of hearing teen or one that cannot hear at all, you will face challenges differently than others who can hear. We need to embrace our difference and try not to be limited by it. If we believe in ourselves, then we can also convince others to believe in our ability too. Which is super important when you're looking for a job, or considering which career path to take.
Let's take a look at some career options for those with hearing loss.
The Deaf or Hard of Hearing Advantage
Texting is the most popular form of communication between teens. The ability to communicate by typing and reading things is now just as important as being able to hear. But if you've lost hearing ability then your other skills will heighten. Think about the speed at which you can type or text.  Some deaf teens text so fast you can literally see the smoke coming off their fingers!
NBC News reports that teens prefer texting over talking in person. This is no news to you – all you need to do is watch your friends hang out together. Nobody is talking to anyone. They might as well be deaf. They are ALL staring at their smartphones and might even be texting the person sitting right next to them.
Since more than 80%of teens use social media and have smartphones, they are all also carrying a communication device that makes it easy for them to communicate with a person with hearing loss. This beats having to carry a notepad and pencil around everywhere you go.
Career Options for Deaf Teens
So what careers are available where being deaf or hard of hearing is an advantage? Plenty of them.
There are hearing-specific career paths where hearing loss has a distinct advantage. Think about jobs like:
teaching (sign language, or mentoring other deaf or hard of hearing people)
becoming an audiologist
coaching (tennis and basketball have large participants from the deaf community).
These kinds of jobs can be very rewarding. Working with youth can make a huge difference to the life of someone with partial or full hearing loss.
Then there are other career paths where hearing impairment is not a huge barrier, such as becoming:
 a writer
a librarian
an archivist
an accountant
a draftsperson,
a funeral director
a marketer (write blogs, community management for social platforms, online digital comms)
an IT professional (software programmer, security analyst, web developer)
an artist (graphic arts, photography,  3-D animation)
skilled worker (fine watch repair, seamstress, lab technician, research scientist)
a fashion designer.
We know some inspiring people who have built a career despite of their hearing loss and have experienced first-hand the support provided by Hear For You.
Meet Patrick
Industrial and Technical Designer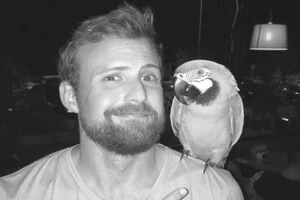 Our former VIC mentor, Patrick Lane, is a 28-year-old Industrial and Technical Designer from Melbourne. Patrick first heard about Hear For You when he met Sophie Li who, at the time, was the VIC State Manager at Hear For You. He says, "I was quite intrigued by what the program had to offer for both mentors and mentees involved, and given the struggles I endured growing up, I knew I had to join."
Patrick shares his personal experiences growing up:
"I grew up in a hearing world, thinking I was broken, thinking I was different, that I needed these hearing devices and endless sessions of speech therapy to fit in with what's considered the "norm" of society. Despite my tiring efforts to hear and speak well, throughout most of my schooling I felt isolated and alone as a hard of hearing person. Though I did have deaf classmates who I felt I could be true to myself around, I continued to struggle fitting in with my hearing peers and society as a whole. It wasn't until after school I began to socialise with people within the Deaf community and learnt more about what it means to be Deaf. That's when I slowly established the one core value that drives who I am today – my Deaf Identity."
Since leaving Hear For You in 2015, Patrick continued to focus on his design career while representing Australia in the national Deaf Men's Basketball Team (aka 'The Goannas'). In the same year he won a national young design award with an opportunity to visit the world's oldest design firm, based in Seattle of USA.
Just like he told every mentee who attended the Hear For You program; "You can achieve absolutely anything you set your mind to, regardless if others tell you otherwise. The world is your oyster, so do venture out and seize the day!"
Meet Matilda
Studying Bachelor of Arts ( Politics and International Relations)
Studying at the University of Melbourne, Matilda Carnegie, wears a cochlear implant, shares with us her first impression of Hear For You.
"Walking into the first workshop I felt mixed emotions. Obviously, I was really excited to meet other young people and the mentors who had similar hearing losses to me and so could share experiences and how to deal with different issues. It reminded me that I was not alone. But I was a little bit nervous, as I had never met another deaf person before and I was used to just pretending that I wasn't deaf to blend in. I wasn't sure what owning my deafness would be like. However, even though it took time owning my deafness, it was a relief and I have not looked back since!"
Matilda shares her experience with the Hear For You workshops, "To be honest the main thing for me was just realising that I wasn't the only one who struggled being deaf. For ages, being deaf made me feel out of it and a bit weird and it still does. But it was good to see that other deaf students were having similar struggles, particularly with social isolation. It made me realise my reactions and idiosyncrasies in response to being deaf were natural, and that anyone would react that way to being deaf."
Matilda has written blogs on her experiences and challenges as a young deaf Australian and we will be sharing them soon via our social pages. We know Matilda has an awesome future ahead.
Are You Ready For What's Ahead?
Whatever you consider doing for a career, be excited about it! Enthusiasm will take you a long way. And remember you are not alone. To get started exploring your career path choices and support network, check out our Life Goals and Skills program.
Meet inspiring mentors who have "been there and done that." Explore different aspects of life. You'll get the chance to exchange ideas and experiences with people who will actually understand the daily challenges you face and see what interesting career choices they made.
Before you go …
You might be interested in some of our other blogs:
Teenage Deafness and Mental Health – How Are You Doing?
How Technology is Changing the Life of Deaf  Teens
Tips for Dealing with Social Isolation
Introducing League of Hearoes – a Private Minecraft World for Deaf Teens