TRANSCRIPT 
NSW Parliamentary Friends of Hearing Health and Deafness
School Student Public Speaking Event
Theatrette, NSW Parliament House, Macquarie Street, Sydney
Wednesday, 7 August 2019
BETTINA LIANG:  Good morning, ministers, parliamentarians, ladies and gentlemen.  My name is Bettina Liang and I am proud to be your MC for this special event here at the Parliament of New South Wales.  I would like to acknowledge the Gadigal people of the Eora Nation, the traditional custodians of this land and pay my respects to the Elders both past and present.  I acknowledge the challenges facing Indigenous leaders and families to overcome the unacceptably high levels of ear health issues among first peoples.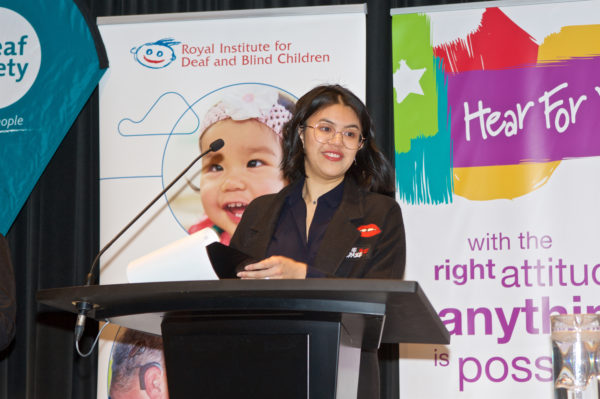 I would like to acknowledge the provision of communications access today by means of the captioning and the sound field system, ensuring that those who are here today who have a hearing device are able to access what is being said.  Also, I would like to acknowledge the interpreters here today who are communicating in Auslan, the national language of the Australian Deaf community. All of this is provided to ensure that everyone here today is included.
I would like to acknowledge the following guests here today:  the Minister for Education, Sarah Mitchell MLC; the Minister for Disability, Gareth Ward MP; Shadow Ministers Prue Car and Penny Sharpe; parliamentarians, and of course our six speakers who we will hear from very soon.
Some very brief housekeeping:  in an emergency, you will hear an alarm and I have been asked by Parliamentary Services that everyone stays here until further instructions.  From time to time you may hear a division bell. If you have a hearing device like me, you can just turn them off. Please don't do that. But they are for our parliamentarians who are called for divisions and we may pause the speeches if this is too loud, but we'll work it out.  
My name is Bettina and I'm in my final year of studies doing a Bachelor of Technology and Innovation at UTS.  I was born with profound hearing loss. I wear two cochlear implants and I was a previous mentee of Hear For You, where I met many other deaf high school students.  
I have had so many opportunities and amazing experiences throughout my years of schooling and quite some funny moments too.  There was a time in year 7  this was halfway into the year  when one of my friend asked me, "Why do you wear Bluetooth pieces all the time?" I was like, "No, they're my cochlear implants" and I had to explain that I use them to hear and I'm not some businessman in year 7.
For me, growing up Deaf was a unique experience and it wasn't without some challenges along the way.  Despite my hearing loss, I was lucky enough to have great access to education and to be supported in many ways.  Parliamentarians and everyone present, I encourage you to listen to what is being said here today.  
So enough of me, I would like to introduce David Brady, who is the Chairperson of Deafness Forum of Australia and the CEO of Hear For You.  He is one of the driving forces behind the development of the Coalition of New South Wales Deafness and Hearing Health Organisations. (Applause).
DAVID BRADY:  This is great.  Thank you, Minister Mitchell, ministers here, parliamentarians, distinguished guests, ladies and gentlemen.  Before I start, I acknowledge that this is the national week of education and my word, what a great opportunity for us today to really get into the grassroots of education with the great speakers here today.
Bettina, thank you for your kind introduction.  I note your incredible journey and growth since the first day you were at Hear For You as a teenager.  We watched you grow in confidence over time, watched you interview Australia's 25th Prime Minister, John Howard, over lunch, and now you're the MC of this event leading these six incredible young speakers here today.  What's going to happen next?
Felicity Wilson, I am pleased that you, deputy Chair Trish Doyle and all members of the Parliamentary Friends of Hearing Health and Deafness have continued the New South Wales friends group into this new parliamentary term.
One of the things I just want to note, it's been hard work over the break recently with the installation of your hearing loop in here and also the work you're putting in behind the scenes in this oldest Parliament to increase communications access so that everybody in New South Wales can feel included.  Thank you.
The New South Wales Coalition of Hearing Health and Deafness Sector Organisations is a collaborative partnership of organisations which includes the Deaf Society, Cochlear, Macquarie University, the Shepherd Centre, the Royal Institute for Deaf and Blind Children, Hear For You, and the Deafness Forum of Australia.  Together, we provide hearing health and deafness advocacy, awareness raising, education, and deafness services in New South Wales. Importantly, this coalition includes key representatives of those who have a hearing loss who are deaf. They are drawing on generations of lived experience in this group.
Let me recall three of the Premiers' and Deputy Premiers' priorities for this term of government in New South Wales:  making government work better for you by putting the customer at the centre of everything that we do; the highestquality education no matter where you live or what your circumstances may be; break the cycle of intergenerational disadvantage by fixing problems that have been left in the too hard basket for too long.
In New South Wales there are 1 million residents who have a hearing loss, who are Deaf or have an ear or balance disorder.  This is actually greater than the population of Newcastle. My constituents and I share the same frustrations, cynicism and often disappointment.  We all feel we've been left in the too hard basket to be neglected, overlooked and forgotten. Being in the too hard basket means unaddressed hearing loss in Australia continues to have a high impact on individuals, communities and the economy.  Economically it is estimated it costs $15 billion a year to the Australian economy. That is equivalent of building a new Sydney Northern Beaches tunnel every 18 months.
Being left in the too hard basket means Australians who use Auslan, Australian Sign Language, continue to experience disadvantage in accessing areas impacting their daily lives, including employment, education and community information.  Being left in the too hard basket means hearing loss continues to be the second most common health condition for Australians. It's more common than asthma, heart disease, cancer and diabetes. In fact, 55% of this hearing loss is preventable.  It's unacceptable and it needs to be taken on with good awareness campaigns, education and early intervention.  
When you take this on, and Parliamentarians, when you succeed, there is no doubt there will be a chunk of savings of that $15 billion to invest in other priorities.
Being left in the too hard basket means watching our best, brightest, and innovative deafness sector academics and talents take better offers overseas.  We love innovation, creation and winning, so how come we are missing out on the next Cochlear?
Can we look at winning rather than giving?  Invest to keep talent here, be the best in the world, because we can if we set our vision to it.
Being left in the too hard basket means deaf and hard of hearing New South Wales residents fear  yes, fear  going to the hospital.  Parliamentarians, I ask you to imagine you're hearing going from sound to zero to mute just like when you press the TV remote. Then take yourself to casualty to walk in my shoes and those who are deaf and hard of hearing to work out what is communicated to you under duress, high stress and anxiety.
Being left in the too hard basket means school students and young adults are missing out on crucial years of education.  Today our six students will bring you a firstperson perspective on access, classroom acoustics, awareness and screening. Being left in the too hard basket means having a hearing loss attracts negative stigma, demeaning attitudes, community and workplace discrimination.  It's socially isolating from families, communities and workplaces.
Academic studies show Australians with a hearing loss are four times  four times  more likely to develop mental health conditions than those with normal hearing or good hearing.  Community stigma marginalises teenagers, young adults, working adults who've lost their hearing either at birth or in childhood; returned servicemen and women whose perfect hearing became a casualty of their services to our nation.  Older adults who have lost their hearing for whatever reason, from youth to older age, experience anxiety, depression and other psychiatric disorders because of their loss. This leads to poorer social relations, higher illness rates and reduced quality of life.
I am actually saddened to report that there are simply not enough mental health professionals trained to support this whole cohort.  As Chair of Deafness Forum and CEO of Hear For You for the past eight years, I've witnessed and heard of many tales of mental health conditions.
Parliamentarians, I know that you can change this and leave a legacy at the end of this Parliament's term not just for 1 million New South Wales residents who are hard of hearing or deaf, but because I know that you want to because it's the right thing to do.  It is very exciting that we can all work together to raise awareness of hearing loss and deafness, encourage hearing loss prevention, improve communications access in public places, especially those essential services like hospitals, Service NSW, and community access services, improve areas of education, especially access, implementing screening and services to ensure that noone is left behind.
I call all of us here in New South Wales to show other states how it's done in our great southern land.  Let us all listen and hear these six incredible deaf and hard of hearing students. Hear and learn of their challenges, their experiences and their solutions.  Enjoy. (Applause).
BETTINA LIANG:  Thank you, David.  I would now like to invite the Minister for Education, Sarah Mitchell MLC, to the podium, please.  (Applause).
THE HON. SARAH MITCHELL MLC:  Good morning, everybody. I'd like to begin by acknowledging that we meet on the traditional lands of the Gadigal people of the Eora Nation and pay my respect to Elders past, present and emerging and extend that respect to all Aboriginal and Torres Strait Islander who are here today.  
David, thank you for your words.  I'd also like to acknowledge Felicity as our host here, but also my parliamentary colleagues from I think mainly the other chamber.  I don't know if anyone else from the upper house is here at the moment, but certainly the members of the opposition and government members and other cross benchers that are here today.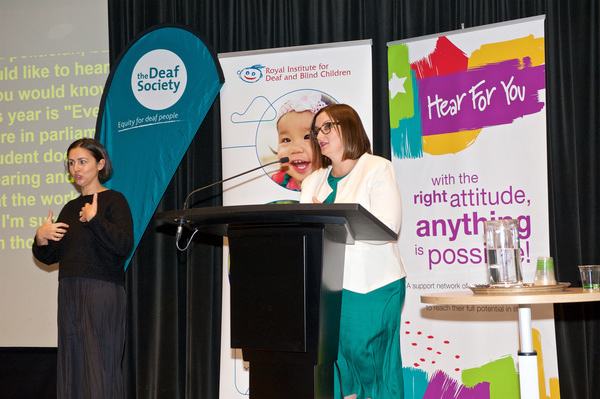 I think one of the great things when we have groups come to Parliament for important organisations and events such as this is when we do have participation from everybody because it shows that there is support for you and what you're doing right across the political divide and I think that's a nice thing to have reflected on an event such as this morning.
I'm really pleased to be able to be here.  I know I'm a politician, but I promise I won't speak for very long because I would actually really like to hear from the guest speakers that we have today.  Many of you would know that this week is Education Week and the theme for this year is "Every student, every voice". So I think it's fitting that we're here in Parliament with you today to listen to make sure that every student does have a voice, including those who are deaf or hard of hearing and who attend our schools in New South Wales.  I know that the work that is done to support you is incredibly important and I'm sure that there will be some great insights this morning from those guest speakers that we are to hear from this morning.
So thank you for inviting me to be a part of this morning's event.  I'm looking forward, as I said, to hearing from the speakers, as I'm sure my colleagues are as well.  I'd just like to welcome you all to Parliament House and I hope you have a great time while you're here with us.  So thank you. (Applause).
BETTINA LIANG:  Thank you, Minister Mitchell.  It is now time for our six speakers to share their insights and experience of the current state of play of the New South Wales education system as a deaf student.  I will start off by introducing our first speaker, Joel Burgman, who is from Manly and in year 12. (Applause).
JOEL BURGMAN:  Good morning, ladies and gentlemen.  I would like to introduce myself. My name is Joel Burgman and I am currently studying year 12 at St Augustine's College, Brookvale.  I am passionate about our environment and wildlife and intend to undertake a Bachelor of Earth and Environmental Science Degree at UTS.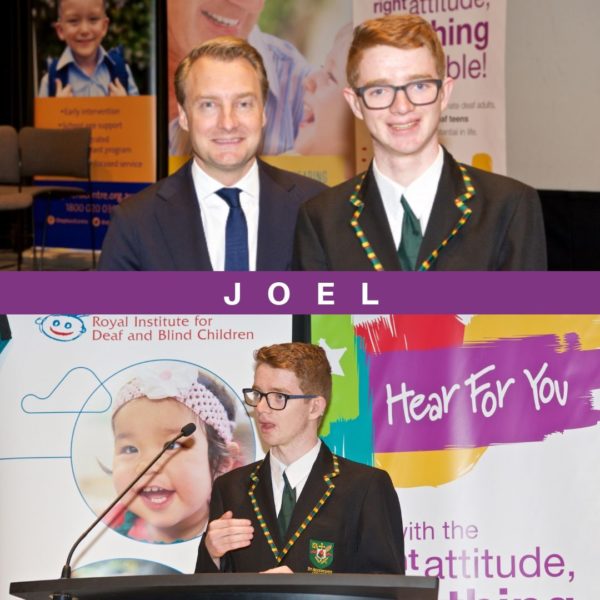 As a toddler I was diagnosed with moderate to profound hearing loss and more recently, as my eyesight has deteriorated, it was discovered that I have a genetic condition called Usher syndrome.  My education has been a journey, a journey filled with ups and downs, but most importantly, a journey filled with opportunity and incredible supports.
My education started when I was two and a half years old.  On diagnosis, my parents enlisted the help of the Shepherd Centre, where I spent the following two and a half years prior to commencing kindergarten.  During this time I attended onehour weekly early intervention lessons and play group. Here I not only learned to speak, but increased my social skills.  Without their help and dedication, I would not have been able to start school with confidence.  
During this time I also attended weekly speech therapy sessions provided by my parents.  I start primary school at St John the Baptist, Freshwater, where I received weekly one hour support sessions funded by the school.  This helped me with reading, writing, comprehension, and so on. It was at this stage that my parents realised that one hour a week would not suffice if I was going to keep up with my peers and reach my full potential, so I continued with my speech therapy until year 5.
I started at St Augustine's in year 5 and have been very well supported there.  At St Augustine's they have a dedicated learning support team as well as a full time psychologist, which has helped me maintain a positive mental outlook.  Over the past seven years at St Augustine's I have had the assistance at different stages from Royal Deaf and Blind and occupational therapists and also private tutors.  My education has been a busy one.
There has not been a day, week or year where I have not had support.  I feel privileged that so many teachers, specialists and of course my parents have invested so much time into my education.  I would not be where I am without them.
I know how fortunate I am, but so many hearing impaired children don't have the support that I have had and I think it's time to look at what we can do to give every one of these children the opportunity to be the best that they can be.  These children, like me, have huge potential. They have potential to excel in their chosen fields and give back to the community if invested in when they are young.
The one thing that I have learned from my experience is that children with hearing impairment are extremely hard working and over time get a very strong work ethic.  They learn resilience and empathy and these are incredible skills often sought after by employers.
I believe that all children should have access to supports, whether that be through communication specialists, speech therapists, early intervention teachers, and so on, when starting school.  If we invest in these children early, they can go on to gain full time employment and other careers. This could have a significant positive impact on unemployment numbers and homelessness.  
It is my firm belief that all schools should provide students with in-house specialists or remote access for country children as it is imperative for a successful education.  I cannot emphasise enough how important it is to have access to these supports. It will make a significant difference. It has made a difference to me. Thank you. (Applause).
I would like to introduce our next guest speaker, Ella.  (Applause).
ELLA CHERRINGTON:  Good morning. My name is Ella Cherrington.  I would like to start by thanking you for the honour to talk to you today about deafness and hearing health.  Specifically I have been asked to talk about do my school peers know about deafness and hearing health. There may be exceptions, but in my experience the answer is a simple no, my peers do not know about deafness or hearing health.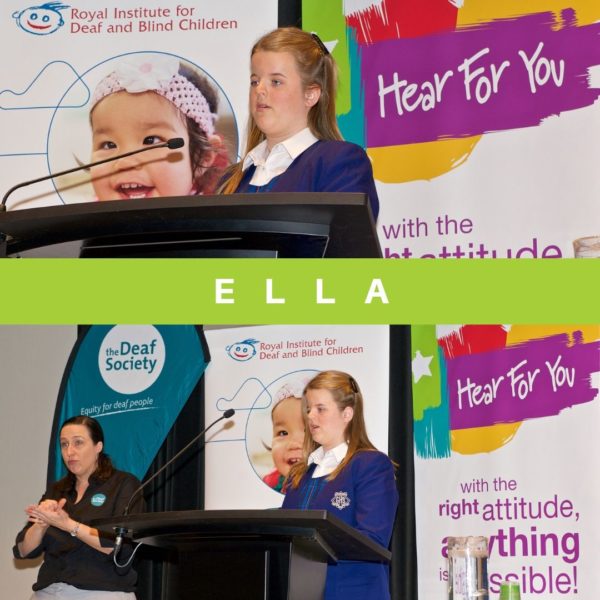 To be honest, prior to finding out that I had a permanent hearing loss, I never even gave a thought to my hearing.  So left with this answer, I wanted to try to convey something meaningful in answering this question. I thought about my personal experience with deafness and hearing health and I realised that my life experiences would indeed bring a colour to this question that perhaps others could not bring.
You see, I have had a moderate hearing loss since birth, but it was only discovered when I was around 10 years old.  Up until then, teachers, doctors, my parents and my friends had no idea that I had such a hearing loss.  
The story as to the discovery of my permanent hearing loss is a long one, but I'll cut it short.  It is important to know that at the start all of my sisters and I passed the baby hearing test. We started down the path of discovery thanks to my middle sister, Abbie.  She was about seven years old at that time. Abbie was having a little difficulty with school. My mum saw the GP and they decided to get her hearing checked, a good move because there was a hearing deficit.  That hearing deficit was corrected after a small surgery to insert grommets. Whilst it took some time to resolve her hearing, it has returned to normal.
Next up my youngest sister, Phoebe, started school and she too started having troubles at school.  Mum went to the GP and while the GP said it may be too early to worry, my mother is particularly strong willed and with one child already experiencing hearing issues, she insisted that a hearing test take place.  It turns out that she did have a hearing loss, but unlike Abbie's hearing loss, this one was a moderate permanent hearing loss. Phoebe was five years old.
As we were still in the process of resolving Abbie's hearing, we were fortunate to be seeing Abbie's ENT.  My mother, ever vigilant, mentioned Phoebe's hearing loss. As they discussed the history and the presentation of the hearing deficit, the ENT recommended that the whole family have their hearing tested.
So I had my hearing tested and found out that I needed hearing aids and in the classroom I would benefit from an FM.  The adjustment was difficult for me. It required me to change schools so I could receive the support I had missed out until the diagnosis.  I also received great support from Dana Pollard at Australian Hearing. She was the person who fitted with me hearing aids, showed me how to use the FM but, most importantly, made me feel that these aids were okay and I should embrace them.
The support I have continued to receive has been essential to my improvement at school.  I am still working out how to cope with my hearing loss as new situations arise.  
Given this short and potted history, you should know and understand why I would like to rephrase my question to be does anyone other than specialists know about deafness and hearing health?  Again, the answer to this broader question is no. I would like to think that in time the answer to this expanded question will change. How that is achieved is a matter for you and others. How do you raise awareness when there is a hearing deficit and hearing health more broadly?  Thank you once again for this opportunity (applause).
I would now like to give a warm welcome to Elisha.  (Applause)
ELISHA TRINH:  Hi, my name is Elisha and this is my sign name.  I am 11 and I'm deaf. But my mum, my dad and my sister, they're all hearing.  But I'm really lucky because they learnt how to sign just for me. When I was young, I went to a bilingual preschool for deaf kids at RIDBC and now I go to Thomas Pattison School and that means I can communicate with my teachers and my friends in English and Auslan.
Sometimes we have special visitors at the school or other teachers who come in to teach us and they don't know how to sign.  When that happens, we need to get an interpreter in because otherwise it's very hard to communicate. I prefer communicating directly with my teachers because sometimes the interpreters don't understand what we're talking about, like in science and in maths, or sometimes it's hard, I have to watch the interpreter but I want to watch the teacher as well and I have to look between them and that gets confusing.
Also, the teachers know me well and they understand me the best, but the outside visitors don't always do that and neither do the interpreters.  When I'm outside of school, sometimes I get interpreters that are not even qualified or trained and that can be very frustrating and isolating and lonely.  Interpreters must have training and must do lots of study before they can be qualified. They need to have excellent English and Auslan skills of course. They also need to learn how to interpret between the two different languages.  And they also need to understand the topics that they're interpreting about.
Today for deaf students in schools they get given a teacher's aide, but they're not a professional interpreter.  They're a person who isn't qualified and they get paid less money than professional interpreters do and that's the only way we get access in classrooms.
It's not fair because we don't get full access to everything the way hearing children would then get and we can't talk directly with those teachers without the interpreter.  It would make it much easier if we could, if we had interpreters who were qualified. That's why it's so important that interpreters all have the right training before they're allowed to start working.
So I really think that the Government needs to make sure that in all mainstream schools deaf children have access to professional interpreters so that they can access the same level of education that hearing students do.  Thank you. (Applause).
Now I would like to invite the next speaker to the stage, Jared.  (Applause).  
JARED DONALDSON:  Good morning, ministers, parliamentarians and fellow people.  My name is Jared and I am 16 years old. I was born with a moderate hearing loss in both ears.  I have worn hearing aids since I was six weeks old. While hearing aids are becoming more common, there is still a lot of ignorance about their use, which results in bullying and misconceptions about deaf and hearing impaired people.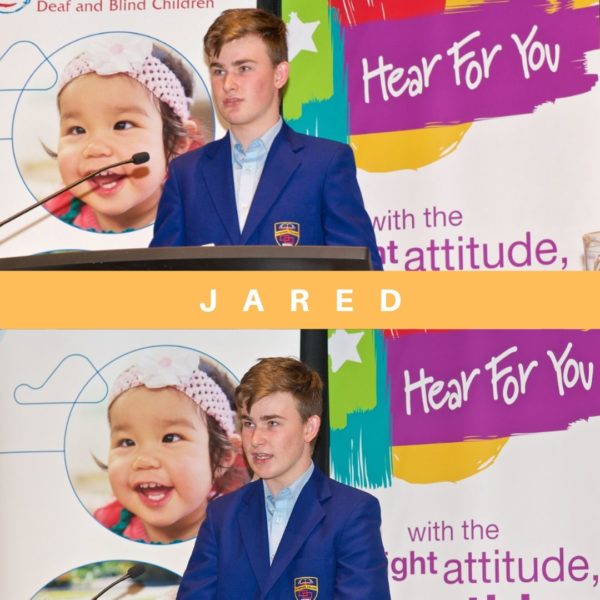 A study in America revealed that deaf students are bullied two to three times more than other students.  A study in Britain found that 60% of students with disabilities reported being bullied compared to 25% of students in general.  
My experience and that of my friends who are hearing impaired would agree there is a higher incidence of bullying in Australia compared to other student groups.  There are many reasons that contribute to this. These include lack of deaf awareness among the general population and therefore staff and other students at school.  We communicate differently to our hearing peers. We may interrupt or be more direct in our speech and we are less able to pick up on social cues, both verbal and nonverbal.  For example, if someone is being sarcastic, we don't always realise this. Also, we can't identify the tones of voice people are using. Because we do not hear the same speech sounds as hearing people, we speak differently to other children at school and may find it difficult to verbally defend ourselves.
Personally, along with the hearing loss, I have developmental expressive language disorder.  This is associated with hearing loss and that means I have trouble verbalising what I am thinking and wanting to say and using language appropriately.  It also means that what I write in class work is much shorter than hearing students. So the combination of not hearing and not being able to say what I am thinking makes communication difficult.  The communication barrier also makes it harder for me to be understood.
We are physically different to our peers because we have technology such as hearing aids and cochlear implants.  There is a negative attitude in society towards people with any kind of disability.
The teaching arrangements that are meant to help us actually emphasise that we are different  for example, using an FM; needing to sit at the front of the class and not with our friends; having an itinerant support person sit with us in the classroom; being withdrawn from the classroom for individual work.  We need this support, but sometimes other students are not kind about the attention we receive.
Hearing impaired and deaf people spend more time on the internet because we feel more comfortable communicating this way and this also makes us more vulnerable to cyber bullying.  
There are many misconceptions about deafness.  Some people think just because we are deaf, hearing impaired or wear hearing aids we can't hear anything.  But some people have the opposite belief that because we have these devices, we hear everything. But the truth is somewhere in the middle.  Hearing devices help us to hear, but what we hear is different and the amount we hear depends on our level of hearing loss. If we have a cochlear implant, then the sounds are not normal voices but electronic sounds.
In schools people might not want to talk to us because we are deaf or hearing impaired and they think we can't communicate.  We can communicate and we can hear. However, people need to understand that it is easier for us to hear in quiet environments, small groups, and seeing their face.
Teachers don't always know what is best for us even though they think they do.  At the end of the day we get tired, usually in class. Although we are focusing and understanding everything, our mind is not up for the work and the teachers get mad when they think we are not paying attention or understanding.
Casual teachers that never had us before don't know our needs, so either we have to advocate for ourselves and educate the teachers our requirements or we say nothing and then miss out on the information being taught.
I would like to share a story of one of my friends.  My friend had a casual teacher who insisted that he had ear buds in and would not allow the class to start until he took them out.  These were hearing devices and he missed out on the information. One of his classmates obtained permission to go to the bathroom and, on doing so, he talked to the people in the front office and reported it so the mistake would be addressed.  When the casual teacher learnt of their mistake, they were apologetic, but the damage had already been done.
There are many things that schools can do to support hearing impaired students, simple things like sharing class preparation notes, sending us PowerPoint presentations at least one day before class.  This allows us to read the information, look at any videos that are linked and read any teaching notes before we go to class. Teachers don't like to share this, but sometimes it helps us prepare for class.
Last year my food technology teacher gave me the recipes for class a week in advance.  This meant that I could read the recipe to understand the language as well as practise cooking the recipe before I had to cook in class.  This was very helpful as sometimes there were steps missing from the recipe that make sense to someone who can hear, but that I needed with my expressive language disorder.
This year I started at a new school.  I had great and consistent support throughout junior high, but changing schools meant changing support teams.  The new team was very slow in arranging my support and my mum had to pursue this. The support has not been good this year and I am starting with a new teacher this term.  This is not a good experience and a better system or additional resources are required so that other students do not find themselves in the same situation.
In junior high my itinerant teacher hosted information sessions at the start of each year with my teachers.  In these sessions she would explain my level of hearing loss, strategies to help me in the classroom and expectations for assessments and exams, such as extra time and withdrawing from class.  Some teachers were responsive to these sessions and one even attended a professional development course so she could assist me better.
I think it would be great if all schoolteachers had to complete mandatory training to better understand our needs and to support us.  This would remove a lot of misconceptions and the need for deaf and hearing impaired students to advocate and explain their needs. It would also be good if all schoolaged children, both primary and secondary, were provided with opportunities to increase their awareness of deaf and hard of hearing people and their own hearing health, perhaps something for Deaf Awareness Week.  
I've noticed there has been a lot of education and awareness about autism and minority groups such as LGBT, multicultural are celebrated in schools.  Why can't we have some awareness about hearing? Thank you for listening. (Applause).
I would now like to invite Tobian to the stage.
TOBIAN JACKSON-JONES:  Okay, so why are there no hearing screening tests for my peers?  And how will these tests support me plus other deaf students in schools?  Did you know that hearing screening testing is not compulsory for students here in New South Wales?
Good morning, everyone.  I would like to discuss with you today why it is important that all children should have their hearing tested when they start school.  My name is Tobian  this is my name sign  and I am part of a proud deaf family. We communicate in Auslan and English. My dad is a third generation deaf man.  That means that his dad and his grandfather were all deaf as well. But my mum, she's the only deaf person in her family.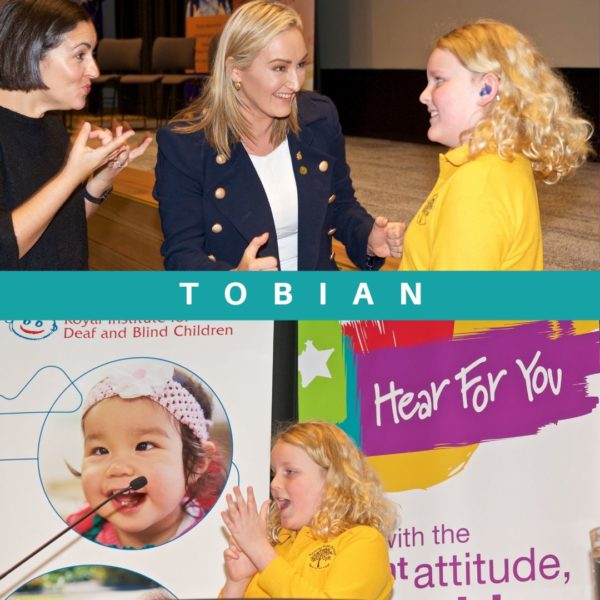 When I was born, I was lucky and that's because I had access to the hearing screening test.  So I was diagnosed as deaf straightaway and that meant that my mum and dad could make sure that I had access to language and communication from day one.
I am very proud that I can use Auslan and English with my family and with my friends.  I go to a fantastic mainstream school. It's called Waverley Public School. They support me they're using both Auslan and English.
Over the years I've met many wonderful deaf and hard of hearing people who have great lives because they had their diagnosis when they were young and, because of that, they were able to access the right supports and technology that they needed.  But some people with some types of hearing loss don't get diagnosed until after birth. Imagine if a person sitting next to you in your class has not yet been diagnosed. They would be struggling to understand the teacher and the conversations around them.  They would also find it hard to make friends because they can't hear or understand what they're saying. Can you imagine how that person would feel? They would be very lonely.
Why can't this person have the same opportunities as me?  Why now, in 2019, do we still not have compulsory hearing screening testing?  There is lots of proof out there that says early diagnosis means better outcomes.  So this situation is not acceptable when we know that children with a hearing loss  the numbers, it's increasing.
New South Wales has vision testing for all children before they start school.  So why can't we have hearing testing as well as vision testing at the same time before we start school?
There are many symptoms for people who have an undiagnosed hearing loss and they're often seen as behavioural issues.  For example, maybe they won't respond when their name is called. Maybe they would scream and shout a lot. Maybe they don't understand instructions, or they could be very restless.  They could also get distracted very easily and distract others in the classroom. Or they could have delayed speech and limited vocabulary. This isn't great, right?
So hearing screening would benefit the students.  They could get the right diagnosis and they could then access the supports they need for success.  This means that they would have a wonderful school experience like Elisha and me.
Thank you very much for listening.  (Applause). I would now like to introduce the next speaker, another fabulous student, named Hana (applause).  
HANA ARSHAD AHMED:  Honourable Minister Mitchell, Minister Ward, shadow ministers, parliamentarians, friends, I'm here to share my experiences as a hard of hearing student and to talk about the supports that have helped me.  
A little about myself.  I am 16 years old, studying in year 10 at Strathfield Girls' High School.  I wear hearing aids in both ears as I have a mild to moderate hearing loss.  I was born in Singapore. I was premature and weighed just short of a kilogram.  I spent three months in prenatal care. This is when I was diagnosed with hearing loss.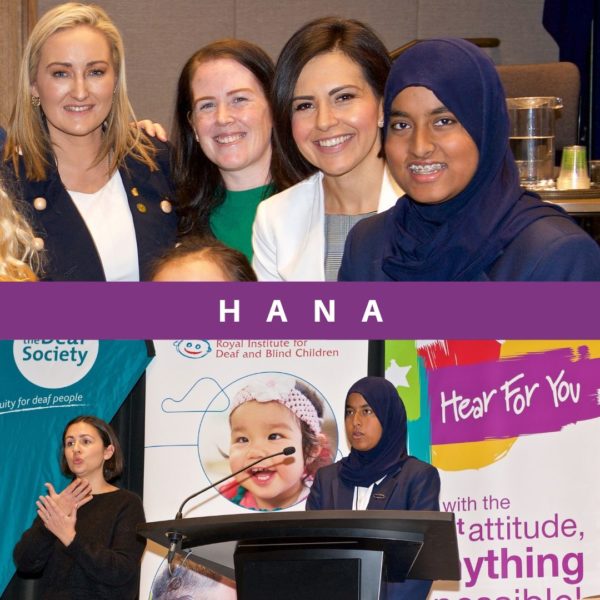 I moved to Australia with my parents, younger sister and brother.  My parents are originally from India. As a family, we love to travel and we have lived in Singapore, London, Chennai, Bangalore, and Brisbane before we settled in Sydney.
I am supposed to speak Urdu at home, but I don't do a very good job of it.  I think this is because my parents chose to emphasise learning English to make it easier for me at school.
To me, being hard of hearing means that I am a normal person who hears in a different way.  It makes my life more interesting. Conversations can be like a game of Cluedo as I try to solve the mystery of what was said.  Did my friend Nicole say, "Let's go for a movie", or, "Let's go get a smoothie?"
Another upside of being hard of hearing is that I can keep secrets.  This may be because I don't hear whispers in the first place.
I enjoy going to school.  My teachers have been supportive and have been willing to make adjustments and to use assistive technology to help me hear better in class.  I think this has been vital in improving my communication skills. Sometimes there are distractions that they can't help, like the sound of a noisy lawnmower outside that drowns out the teacher's voice.  I try to listen, but sometimes I have to give up.
I find learning new languages hard.  Year 8 was tough as I had to take Japanese and I was not sure if I was hearing the words correctly.  But I'm happy that I passed.
Meeting successful mentors at the Hear For You mentoring program was inspiring.  I got valuable advice from them on dealing with tricky situations. For the past seven years, I have been supported by my wonderful itinerant teachers, Ms Pooley and Ms Wellby, and by the Hearing Australia service.  Because they have worked with me over the years, I feel comfortable with them and know I can trust them.  
My parents feel that continued access to assistive technology, current information, itinerant and school support, mentoring and career guidance would help me achieve my future ambitions.  Right now I am not sure which path I want to take, but I do know wanting to give back is a motivating factor in my choice.
Education can break barriers.  When people are educated about hearing loss, they may become more comfortable and change their attitudes.  They may then be better prepared for the next deaf or hard of hearing person they meet. Thank you for listening to me (applause).
I would like to welcome Bettina to the stage.
BETTINA LIANG:  Thank you, Hana, and to all our amazing speakers for their insights.  Personally, I'm blown away by the amazing stories of these students here.  I had no idea what I wanted to do in year 12 and all of you guys are doing amazing.  
The key takeaways are:
identifying any hearing loss at an early age as soon as possible through compulsory hearing screenings and

there needs to be greater awareness around hearing loss and the strategies that can be implemented to support them. 

This will allow others to understand how hearing loss people can communicate differently and what works for them. For example, I personally rely heavily on lip reading and my teachers knowing that is critical to my education.

Whilst some people with hearing loss have been fortunate enough to be diagnosed early and were able to receive the help and support that they needed, it is about raising awareness and providing early intervention.  Like Jared, I remember having to sit at the front of the classroom because I was deaf or the teachers just turning up the volume to a movie instead of putting on captions. It was little things like this that made me feel singled out and isolated.  Mandatory training will help support students better and remove a lot of misconceptions.
Being able to communicate effectively is intrinsically linked with being able to hear and access information.  Hearing empowers us and it is crucial to our daily lives. Without hearing or being able to communicate properly, this can lead to many misunderstandings and be very frustrating.  This is why we need to listen to these students and help them develop to their unlimited potential.
Now it is time for me to invite the Chair of the New South Wales Parliamentary Friends of Deafness and Hearing Health, the member for North Shore, Ms Felicity Wilson MP, for questions from the speakers to Minister Ward and shadow ministers, if they could come to the stage, please (applause).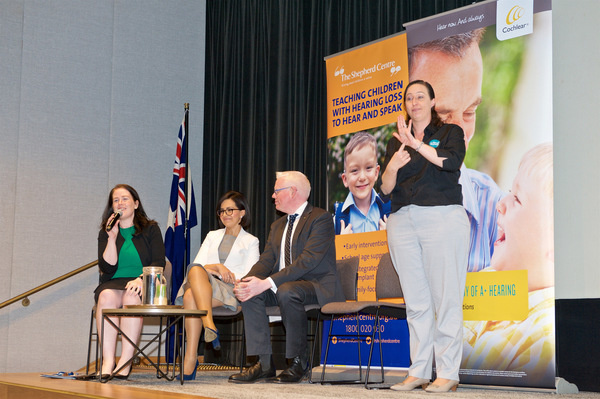 MS FELICITY WILSON, MP:  Hello, everybody. My name is Felicity Wilson.  I'm the Chair of the Parliamentary Friends of Hearing Health and Deafness.  Thank you so much, students. Can I just say that whatever challenges you have faced, you are exemplars for this week's Education Week with "Every student, every voice" and your ability to communicate such personal stories but so many insights that will really shape our journeys as parliamentarians representing your interests.
Before we go on to your questions, I want to thank Minister Mitchell.  I'd also like to thank the Shadow Minister for Disability Inclusion, the honourable Penny Sharpe.  They sit in the upper house of the Parliament here, we sit in the lower house, and they have to run back to their chamber now, unfortunately.  So if you can just all join me in thanking them. I'm sure they've appreciated hearing what you've had to say (applause).  
I'd also like to thank my Deputy Chair, Trish Doyle, member for the Blue Mountains, who will be speaking to you in a minute, and introduce who I have with me here up on the stage.  So we have Gareth Ward, who is the Minister for Disability Services and previously was the Parliamentary Secretary for Education as well, and I have here Prue Car, who is the Shadow Minister for Education.  Would each of you just like to give a very brief introduction about yourselves and then I'll call on the students for their questions.  
MR GARETH WARD, MP:  My favourite topic, me.  That's great. Thank you very much, Felicity.  Look, my name is Gareth Ward. I'm the Minister for Disabilities in New South Wales.  I'm the first Minister for Disabilities to actually have a disability. My disability is legal blindness which is a result of albinism, which means that I don't have any melanin which affects the colouration of your skin and your hair but in my case it also affects the retina and the development of sight.  I've been a member of Parliament since 2011 and I represent the beautiful electorate of Kiama, on the south coast.
MS PRUE CAR, MP:  Thanks, Gareth. I'm Prue Car.  I'm the Shadow Minister for Education here in New South Wales.  I'm the member for Londonderry, which is in far Western Sydney near Penrith, and in my second term here now representing that community I am really keen to I think follow up on some of those issues that were raised by these amazing students who I think just said in that hour that we heard from you  they just got straight to the point about some of those really obvious things that need to be done obviously so we can make New South Wales a bit of a fairer place for everyone.  So thanks very much for having me.
MS FELICITY WILSON, MP:  Thank you very much to Gareth and Prue.  So on to our questions. This is Q and A panel with questions from the students to put our leaders in policy on the spot.  So firstly we have Joel Burgman from Manly.
JOEL BURGMAN:  Hi. So my question to you is could there be a program established in all high schools that directly assists young students with disabilities to obtain a part time job?  For me personally I've found it very difficult to find a part time job. It would be great if companies truly committed to equal opportunity could sign up to a program and commit to provide a set number of jobs for young students with disabilities.  
MS PRUE CAR, MP:  Yes, I think the answer I think obviously is yes, it just depends on how that's done.  I think a lot of these things  knowing the way a lot of schools work as sort of hubs for their community, I think a lot of it will depend, and this should be encouraged by government obviously, on the relationship between local high schools and local industry, local employers.  I can think of a lot of places where that would work, but that is obviously a great idea and you're raising it in the right place literally where laws are made. So I think the answer is yes and you should keep pushing for that.
JOEL BURGMAN:  Thank you.  
MR GARETH WARD, MP:  Joel, thank you for your question and I'll have a shot at answering it as well.  Can I also just say how impressed I was with all of the speakers that came before us.  I was up the back listening and I was very impressed. I note, Joel, your local member is up the back there as well.  
Can I just say that as part of what's called the Disability Inclusion Act, we have Disability Action Plans.  Every department has one, including the Department of Education. We're about to review the Disability Inclusion Act because it's been a long time since it first came into force and a lot has changed in disability since then, Joel, not least of which the National Disability Insurance Scheme, which has opened up a range of opportunities and that Act is also up for review.
So perhaps this is something that the Department of Education could take a look at.  I know, certainly in my department, we have a plan around disability employment. There is an action plan around the employment of people in the public sector who have disabilities and I'm very proud to report to you that the department that has the best record on disability employment is mine.  There are others that could do a lot better and absolutely I'd hope so. I've made sure of it, don't you worry. But there are other departments that can do better.  
I think that's one of the great opportunities for us as part of the Disability Inclusion Act to review to make sure that there are stronger directions around employment because if you're going to want this to happen across the state, if we want to see more people with disabilities employed, which I do, I think the public sector can be a real leader in demonstrating what we're capable of doing, because sometimes people with disabilities don't need a lot of support.  Sometimes it's just the encouragement to know and realise your own potential. Certainly that's been my own experience and I know it's the experience of other people too, but we should be a proud leader and that's certainly where I want to see the public service be and I look forward to the outcome of that review and I encourage you to take part.
MS FELICITY WILSON, MP:  Thank you very much. Thank you for that question, Joel, and I know we have the member for Manly, James Griffin, up the back.  I'm not sure if you've met him already. But I'm sure you can have future conversations with him about helping to advocate for that on your behalf.
Ella Cherrington, if you'd like to come and ask your question.
ELLA CHERRINGTON:  So my question for the ministers and shadow ministers is what can you do to ensure that all schools across New South Wales have the latest equipment to support deaf and hard of hearing school students?  This equipment would be like sound field systems, captions, goodquality streaming and classrooms to ensure that sound does not echo and is not hard to hear.  
MR GARETH WARD, MP:  Ella, thank you for a great question.  Even though I'm not hard of hearing, I do understand what it's like to have a disability in a public school.  I remember, because we didn't have the resources when I was going through school, spending a lot of my own time in the library enlarging my own notes so that I could read them.  That was during class time, so I wasn't actually sitting in the class getting the education that I probably needed.  
I also know what it's like not to have equipment that you need.  My parents actually approached a charity back in the 1980s to get an electronic magnifier, which back in the 80s was $5,000.  My parents just simply couldn't afford it. If it wasn't for the generosity of Bomaderry Lions, I have no doubt that I wouldn't be in this position, I wouldn't have gone on to university to study arts, commerce and law, be a solicitor, be a councillor and member of parliament.  I have no doubt if it wasn't for their generosity I wouldn't be where I am today.
But the good news is that education is now in a place of bipartisanship in the main.  And when it comes to this stuff, I'm sure Prue would agree with this, there's not a Liberal thing to do or a Labor thing to do, there's just a right thing to do and the right thing to do is to make sure that kids have the support that they need and as part of the Gonski school funding reforms we now have an agreed formula around how we support and fund kids with disabilities and that includes equipment and every school should be making sure that that equipment is in place.  Principals are generally quite compassionate, but sometimes you need to give them a bit of a nudge.
And can I just say to all of you as kids who would understand this, you have an obligation to be leaders as well.  The best advocate for people with hearing impairments is you. I know not everybody will have the strength to do that, but if you can, you should.  You should stand up and speak up for what you believe is right. If that means getting extra equipment, we now have more money being spent in our public schools on disabilities than ever before.  So make sure you get your share of it and make sure that your teachers and your principal absolutely understand your needs.
I had to walk that pathway.  I know what it's like. But you can be great advocates too.  The fact that you're in this building today talking about this issue shows that you're leaders.  I know you're capable of it.
MS PRUE CAR, MP:  Yes, I think that's 100% right.  I think the resources are there for that to happen, right?  Everyone who makes the decisions will agree that that should happen.  So it's just a matter of actually enacting it. So whether it's advocating in your local school community, seeing your local MP  I encourage you guys to do that after this, to take some of these issues further and using the agencies of government to push schools to do this.
Can I say I've got a little son at school as well in primary school and when you guys were talking about the need to get equipment in the classrooms, one thing that I immediately think of as a parent to be honest is that benefits everyone in the community because we need to do this so we educate the rest of these classrooms about how everyone learns differently regardless of your abilities and that the system in New South Wales in a prosperous country like Australia should be able to provide that support for you.  The resources are there. We just have to make it happen.
So every opportunity you have to say it, just keep saying it, which you've done today.  Thanks, Ella.  
ELLA CHERRINGTON:  Thank you. (Applause).
MS FELICITY WILSON, MP:  And may I point out, Ella, that you have a particularly influential local member of parliament in the member for Willoughby.  So I would be very happy to connect you with her. I know she sent her apologies today. I'm very happy to connect you with the Premier, with Gladys, so that she can help advocate for that within your school.  Elisha, can we get you up to the stage to ask your question?
ELISHA TRINH:  Hi. I would like to ask everyone how will you ensure and help us students make sure that we have qualified interpreters in our mainstream schools?  
MS PRUE CAR, MP:  Thanks, Elisha. I thought your presentation before was absolutely brilliant about how you had a clear ask of what you think needs to happen in schools and it's really helpful I think for us to understand that.  So I thought you were absolutely awesome, I have to say that.
Okay, qualified Auslan interpreters in schools.  That to me is a no-brainer. Two things: firstly, we need to make sure we're training more Auslan interpreters.  That's key. We have to make sure that there are enough spaces in our training system for people to be accessing that, that it's accessible, that we're encouraging that.  And then we need to be using some of this record funding that's going to schools in New South Wales to actually employ these people.  
Once again, it comes down to making that clear in the system to principals, to the Department of Education, to politicians that make decisions.  But I think we have to train people, we have to make that training accessible. In a previous life where I was talking about TAFE a lot, I know that there is a real need for more TAFE courses in Auslan in more TAFE colleges across the State.  That would be something that I'd really like to progress as well. And we need to get them employed in our schools. So I think we'll walk away really thinking about that priority because of your presentation today, Elisha. Thank you.
MR GARETH WARD, MP:  Thanks, Prue. Thanks, Elisha for the question.  One of the great things about the NDIS is there's now an enormous opportunity to build capacity because there's now more money in the sector, which means that Auslan interpreters are obviously available for not just school students but for other people in the community.  So, look, absolutely. There's money as part of Gonski, but there's also money as part of the NDIS not just to see more people come into the sector but also to be where they're needed most and that includes packages for young people.
MS FELICITY WILSON, MP:  Thank you very much. And Jared  have I got that right as I drop all my papers?  Jared, come and ask your question.
JARED DONALDSON:  Ministers and shadow ministers, how can we students and our deafness sector organisations work with the Government to provide all school-aged children, both primary and secondary, with the opportunity to increase their awareness of deaf and hard of hearing people and their own hearing health?
MR GARETH WARD, MP:  Well, Jared, that's a really good question.  I think doing what you're doing here today is a great example of that leadership, but speaking up and speaking out, never being afraid to do that.  Now, we live in a time where technology is better than it's ever been for young people with disabilities and that gives you and your ability to communicate what you need but also to advise and to educate people so that they have an understanding.  
I certainly tried to do that as someone your age sitting in the position that you are now in relation to visual impairments and blindness.  So I think with social media, with I think  I think our society has also become more inclusive in the last 20 years. I think there's a much greater acceptance and support for people with disabilities than there was 20 years ago.  That's certainly how I feel.  
So you've got a great platform to do it and you've certainly demonstrated you're capable of that.  I certainly encourage you to have more forums like this and I commend the Parliamentary Friends of Deafness and Hearing Health, but also Felicity and all the people involved.  But you can do what has been done in Parliament here too in your schools, in your communities, to make sure that people are aware. So well done.
MS PRUE CAR, MP:  Yes, I think Gareth is right in terms of taking up the responsibility that you have to be an advocate for you and your peers, that's absolutely true, and I think you're all capable 100% of doing that.
I think it's one thing, though, using yourselves within your own school communities I suppose as examples and leaders to draw attention and raise awareness of students living with hearing issues.  It's another thing to communicate that message to students who are in classrooms who don't have a deaf student in their classroom. I think that's something else.
So I personally would like to see issues like this across the board.  For instance, there's a review of the curriculum occurring at the moment.  That's something that organisationally these organisations when it's out for public consultation I would encourage you to participate in because I think every student in a state like New South Wales should learn a bit of what you've taught us all today as part of their normal schooling experience, not just because they might have gone through school with a deaf child.  They'll learn from you. Their life will be so much richer from sitting in a classroom with you, but let's get that message to school communities that don't have that opportunity I think. (Applause).
MS FELICITY WILSON, MP:  Thanks very much, Jared. Tobian, if you'd like to come up and ask your question.  While you're coming up, I'd like to acknowledge your local member is here. I hope you met the member for Coogee earlier when you arrived.  She seemed very excited during your presentation. So I'm sure that she will be an advocate for you and what you want to bring to the table as well.  Thanks, Tobian.
TOBIAN JACKSON-JONES:  So as we know, we have compulsory vision testing for all students at a preschool age.  I'm wondering why don't we have the same hearing tests available for children at that age?  So we have more and more and more children that are undiagnosed and we know more and more that there are so many children out there who are struggling with hearing loss.  
MS PRUE CAR, MP:  I don't know why. It seems odd, doesn't it?  It's probably a historical thing. I was shocked to hear  I think it was Ella that was talking about when your baby goes in to have their compulsory test in the hospital, you can pass that, but later on perhaps not have other issues picked up.  So obviously there is a big need for this. I think that is a nobrainer. It's a cliche that politicians say, I hate that term, but it sort of is. I suppose it's just the logistics of getting it happening.  
It often takes these sorts of things for people to go away and say why is that the case?  If we do have vision screening for preschoolers, why don't we have hearing screening? It doesn't make sense.  I'll have to go away and have a look at why that is the case. You've raised a really important issue and you might be the reason that this is fixed.  (Applause).
MR GARETH WARD, MP:  I've got no doubt that there was a similar forum once around vision that probably led to the testing of vision impairment.  So I think Prue has made a very good point. It is incumbent on people to stand up and speak out, as I've said. So well done on having the courage to do that.
Look, I've seen the benefit of where hearing testing has worked.  In fact there's an organisation in my area called KidzWish that are a charity that actually go into preschools, but they target disadvantaged preschools, to look for young people that have hearing impairments.
The other part of my Ministry is Family and Community Services.  It includes youth justice. I can tell you that there's a lot of people that are tangled up with the justice system, be it in a minor or a major way, that have actually got tragically a hearing impairment.  So I think that this is certainly something that should be on the agenda and well done for putting it on the agenda and you should be very proud of doing that. (Applause).
MS FELICITY WILSON, MP:  Thank you, Tobian. Hana, would you like to come and ask your question, the final question.  Let's see what we can get out of these guys.
HANA ARSHAD AHMED:  My question is what are some of the best things you get to do as a Minister or as a Shadow Minister?  
MR GARETH WARD, MP:  That's a great question.  Certainly not Question Time, can I tell you.  I think some of the greatest things is actually meeting people like you in these forums because not only does I suppose it remind me of my own journey, but it also lets me understand where you're coming from and the things that you need.  
I'm so inspired.  I was listening to one of the students talk before about learning a language, a different language.  When so many people with hearing impairments have trouble with so many things, the fact that you're actually learning a second language, that's just amazing.  I was so inspired by that.
One of the best things of being in Parliament in general is meeting new people and learning the most extraordinary and inspirational stories.  I'm so fortunate that I get to see that every day in a sector that I feel very strongly about advocating for. So, for me, I absolutely love my job.  I remember my mum telling all three of us that if you find a job you like, you never work a day in your life and that's certainly how I feel as the Minister for Disabilities.
MS PRUE CAR, MP:  Yes, I think, Hana, it's learning from people.  We've learnt a lot today. I certainly didn't know half of anything when I walked in here and I'm going away not only with a bit of a task list that you guys have given us, but so much richer in terms of what I've learnt.  But just learning from people's experiences  you know, you get to meet people from all walks of life, the good, the bad, the in between. It is just so enriching.  
Probably the best thing I think is being able to turn that into something that can actually make a difference to people's lives and that wouldn't happen without people telling people like us what to do because we live in a country that's democratic and that's why it works.  You employ us, you give us the issues, and then we go away and we advocate for one day you seeing someone on the news announcing for hearing screening in all preschools in New South Wales because of what you said here today in Parliament House. So that's the best stuff. (Applause).
MS FELICITY WILSON, MP:  Thank you, Hana. I would like to thank Gareth and Prue for being here, but I think they'd probably join me more in expressing their gratitude for being able to be here.  As they've both just said, as members of parliament, we have a lot of people sharing insights with us and requesting things of us, but the journeys that you've shared with us and the recommendations you've made are incredibly powerful and I think it's given us all a real opportunity here to go away and do our jobs better in representing you and your needs to other people in the community.  So thank you very much to Gareth and Prue for making the time today and congratulations, students.
I'm going to hand over now to the Deputy Chair of the Parliamentary Friends of Hearing Health and Deafness and that's Trish Doyle, member for Blue Mountains.
MS TRISH DOYLE, MP:  Hello, everyone, and thank you all for being here today.  Thank you, Prue and Gareth. It's really good for people in our community to see that our ministers and shadow ministers, us as members of Parliament, are people who love and care and are working on issues like yourselves.  
It's really humbling to be part of the Parliamentary Friends of Hearing Health and Deafness and there are many of us.  So Felicity, thank you so much to you and your office for working with David  where's David hiding? There he is  working with David to bring this about.
Thank you to the Coalition of New South Wales Deafness and Hearing Health Organisations, to all our fantastic teachers and support staff and beautiful students who have experiences that you want to share and are able to put those experiences into excellent suggestions to our members of parliament today.
I am here because one of the very first members of parliament that I met was Helen Westwood, former member of the Legislative Council, and she came in here and she worked for years to have her daughter, who is deaf, recognised and to have across a whole range of issues and portfolios the hearing health and deafness community recognised in the parliament.  So she came along to our breakfast last year and she now works in the community as an Auslan interpreter and I'd love to have her and her daughter come in again and see what's happening, what she's started.
Thank you all so much for being in here.  It doesn't end with today. Make sure you send an email, reach out to your local member of parliament or to any of the people you've heard from today and just say hi and let us know what you think and what you want and what your views are.
Felicity, just stand up here again for a moment.  It's good to have a smiley face as part of the Parliamentary Friends and she has been fantastic in reaching out across the parliament.  People often think that we from different parties and just shout at each other across the chamber and we do that, but we also work together on really important issues and you've got a really good person here.
Thank you to all of our fantastic interpreters who make this happen so we can understand each other.  Can you thank them. (Applause). Thank you so much, everyone. Enjoy the rest of your day. We'll hear from you again.
BETTINA LIANG:  Thank you, Miss Doyle.  It has been a great session and I would like to thank the New South Wales Parliamentary Friends of Hearing Health and Deafness and all member organisations of the coalition.  
Thank you to David Brady for organising and, more importantly, thank you to each of the six speakers here   Joel, Ella, Elisha, Jared, Tobian and Hana. You guys all gave outstanding presentations today to what is an amazing audience.  I hope you all take a little bit of what you heard today and continue the conversation.
To close, parliamentarians, the message is loud and clear:  communications access and addressing hearing health and deafness challenges is a very important root cause challenge to ensure New South Wales succeeds in an education system where no-one is left behind.  As David remarked earlier, the Premier wanted parliament to take on the too hard basket cases. Well, we are here and we are ready to work with you to take this on. After all, good communication equals great education.  Thank you very much. (applause).