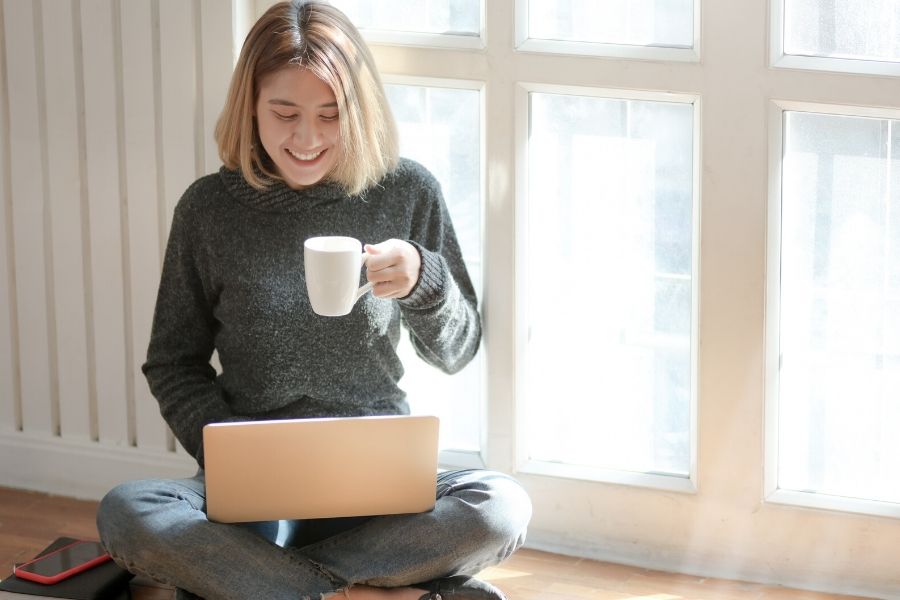 Currently, the world may seem like a strange place, especially with the rapid growth of COVID-19. This is why, more than ever, it is important to remember that in a time of social isolation there are still many ways that we can look after ourselves, our own mental health, and of course, seek guidance and support from one another.
Many teenagers struggle with mental health issues and it is even more challenging if you're deaf or hard of hearing. When you add a global pandemic to the picture and the need to undergo social isolation and social distancing, these feelings will definitely be heightened. What steps can be taken to make this process seem easier?
Research from BeyondBlue indicates that mental health can have positive and negative outcomes. On a positive note, we hear about "good" mental health and "positive wellbeing" that can be attributed to an increased desire to learn, productivity and creativity. Contrasting this is "poor mental health" that causes stress and impacts daily life which can lead to a decline in our physical health and wellbeing and result in anxiety or depression.
Data has been collected to investigate the prevalence of mental health difficulties among deaf and hard of hearing teenagers, though it is difficult to come up with an exact number. Wallis, Musselman and Mackay (2004) used the Youth Self Report (YSR) and reported that 54 percent of students with hearing loss experience issues of mental health.
54% of students with hearing loss experience issues of mental health
Wallis, Musselman and Mackay (2004)

Finding that sense of community as a deaf or hard of hearing teenager
Establishing a sense of community can be difficult when you're a deaf or hard of hearing teenager. Sometimes, your hearing peers may not understand the complexities of living with hearing loss. It is important to connect with other deaf or hard of hearing teenagers (or even young adults), who you can share experiences with, relate to and who really understand how you feel.
83% of deaf children and adolescents attend mainstream schools where they are often the sole student in their class or school who is deaf.
Mitchell & Karchmer, 2004
Reaching out is a positive step, and here's why
It is important to know your support options. Even though you may feel alone or isolated during this time it is important to note there are people here to help and reaching out is a positive step to improving your mental health.
We have:
mentors available to talk to
online programs (more details available soon)
taken steps to reintroduce our League of Hearoes Minecraft game so teens can escape for a while and enjoy building and creating epic adventures.
Here are some of the ways you can reach out
Contact our deaf and hard of hearing mentors from Hear For You, online. Many of our mentors have been through similar experiences and are happy to provide you with that extra support 24/7 – you are never alone.
Seek out reputable mental health services, such as BeyondBlue and Headspace. Their websites also have online forums and chats that are useful, especially in a time of social isolation.
Hear For You is here for you
Tips from our deaf or hard of hearing mentors
Following are some helpful tips from our mentors to help you cope with social isolation and ways to stay informed during the COVID-19 crisis.
Be selective with your source for updates on COVID-19. Pick 1 or 2 reputable websites or platforms and only look at these to receive your updates. Looking at everything, especially with the overload of misinformation on social media, will be overwhelming.
The World Health Organization (WHO) is a great source for obtaining useful, effective and credible information and updates.
Be open when talking with family at home, share anything that would concern you.
Keep things simple, and do some digital detox to maintain your mental wellbeing.
It's OK to zoom out of the chaos around you. Take measures that are essential for you to be safe. Be calm, be sensible, and try not to be dragged into the hype or drama of other people.
Keep perspective. Don't be glued to the TV waiting for every news update. Continue with your projects and hobbies to help manage anxiety and keep calm.
Trust yourself, you can and will adapt.
Bec, our NSW Western Sydney Manager says, "I'm feeling a bit nervous about the COVID-19 stuff. I have a few family members who wouldn't survive if they caught it and even some friends around my age who are at high risk. That's all pretty scary on its own, but now work and life is changing pretty quickly for all of us. My way of taking care of my mental health is having a set bedtime and wake up time even if I don't have anything on that morning. I'm even scheduling Facetime sessions with friends so if I have a bad day or I'm just feeling down  I know that I'll have someone to talk to about it."
We're here to help and we're making changes
Hear For You staff and mentors are adapting to this new world and changes are in motion. It is important for us to stay connected with you in times of uncertainty. Our methods might be changing but our focus remains the same.
We give deaf teenagers support, guidance and the chance to meet other people who 'get' what they're going through.
Remember:
Our mentors are only a click away – you can reach out to one of us here.
Stay tuned for more news on our  upcoming Life Goals and Skills online webinar.
You're not alone and WE are here to help! You can email us too.
Our blogs cover all kinds of topics – you can read them here.