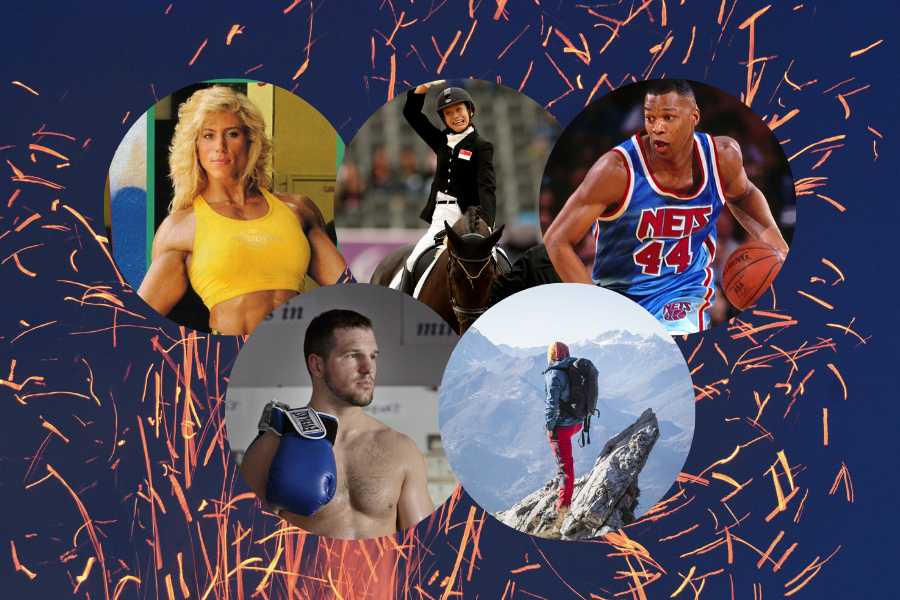 There are many deaf and hard of hearing athletes that have been dominant in their contribution to the history of sport. They are considered role models within the deaf and hard of hearing community, with their ability to break boundaries and make their mark.
The following five athletes pursued their passion, dreamed big and achieved their goals.
Shelly Beattie: Bodybuilder
Shelly Beattie is a professional bodybuilder, who started to compete when she was in college. She experienced quite a difficult childhood, as a foster child and so bodybuilding became her main priority. It provided her with something significant to work towards and focus her energy on. 
Beattie was just three years old when she developed profound hearing loss, as a result of an overdose on aspirin. She completely lost her hearing in one ear and lost thirty percent of her ability to hear in the other. This changed her life drastically, however, this did not prevent her from later pursuing her passion to bodybuild. The main takeaway here being to persevere and not let anything stop you, especially deafness or hearing loss. 
Laurentia Tan: Para-equestrian competitor
Laurentia Tan is the only deaf para-dressage rider to reach international level as a para-equestrian competitor. This is not only inspiring, but outstanding and proves that even as a deaf/hard of hearing individual, the world is your oyster. If you wish to achieve something, then it's your role to make your goals as achievable as possible. 
At a young age, Tan developed cerebral palsy and severe deafness. Her family was advised that Tan may never be able to walk and could require intense medical care, though Tan went on to exceed these expectations. Tan competes and rides by feeling the rhythms of the horse, which allows her to be in control, despite her disability. Tan began riding at the age of five, as a method of physiotherapy and muscle-strengthening technique. She went on to eventually qualify for the Beijing Paralympics and won two bronze medals. 
Tan is a true example of exceeding societal expectations of disability. 
Derrick Coleman: former NFL footballer
Derrick Coleman spent most of his Football career, not being chosen due to being deaf. It wasn't until much later, around 2012, that his football skills were finally recognised when he signed with Seattle Seahawks who went on to win the Super Bowl 48 in 2014. Coleman acknowledges this as being one of his fondest memories of his career. 
Coleman became hearing impaired when he was three years of age, due to a supposed genetic disorder. Coleman wears two hearing aids and began his professional career using his mother's cut up sheer tights as shields for his ears to keep both his hearing aids in while he played. He utilised his skills in lip-reading for louder games, as he teammates would mouth the instructions to him to assist him in following the game. 
An extremely influential sportsman. 
Matt Hamill: Wrestler and martial artist
Matt Hamill, or 'the Hammer' as some people refer to him, is a mixed martial artist and wrestler who is deaf. He fights in the Ultimate Fighting Championship (UFC). His stepfather influenced him to begin wrestling and Hamill claims that wrestling helped him come to terms with his deafness. 
Hamill was born profoundly deaf and uses American Sign Language. Hamill stated that he had never really seen anyone deaf wrestle before, due to communication barriers. However, he stated that he learnt through watching demonstration videos which allowed him to understand the sport more thoroughly.
He did not allow the challenges that deafness prevails to stop him from pursuing his passion for wrestling. 
Heidi Zimmer: athlete
Heidi competed in the deaf olympics in 1969 in the women's high jump and holds the vision that those who are deaf, hard of hearing, vision-impaired or blind can do anything they set their minds to. Heidi acts as a prime example of this. 
Zimmer climbed to the top of Mount Mckinley in 1991 and held up a banner which advocated for deaf women. The banner read: DEAF WOMEN, A PARADE THROUGH THE DECADES.
Zimmer was diagnosed with severe deafness at a young age and later on in life was also diagnosed with Usher's Syndrome. Usher's Syndrome is a condition caused by partial or total hearing and vision impairment that decreases over time. 
Zimmer is an advocate for those who are DeafBlind and pushes these individuals and others to reach their full potential and utilise their strengths.  
Why are these atheletes important?
Not only are these sports people important and unique individuals, they exemplify that the possibilities are endless. 
As deaf or hard of hearing individuals, we can be brave, step outside our comfort zones and challenge whatever it is that prevents us from achieving your goals. Challenge the status quo if  there is something happening at school that holds you back. Push yourself and acknowledge your hearing loss as a strength, you too can achieve great success.
Are you ready to explore your possibilities?
Imagine meeting a roomful of people who just get it. That's what it's like stepping inside a Hear For You workshop. You will find an instant network of friends, learn new skills, and get support from our mentors who have not only "been there, done that" but understand exactly what it's like to be a deaf teen in a hearing world.
Surrounding yourself with like-minded people will inspire you to be the best version of yourself.  We have a large community of deaf and hard of teens who understand exactly what it's like to be the deaf kid in school.  Sometimes, the only deaf kid in school. If you want to explore your possibilities take a look at our current workshops – there's something for everyone at Hear For You.