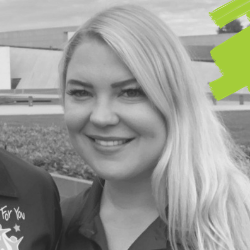 Cassandra M – Mentor (Queensland)
Cassandra is profoundly deaf and wears a cochlear implant. She was raised in a hearing environment and attended main stream schools for the most of her life which resulted in most social circles being mostly hearing friends.
Ever since joining Hear For You, Cassandra has made plenty of new friends with people similar to herself and is slowly learning Auslan (which she loves!).
Cassandra's favourite subject in high school was drama, which led her onto pursuing her dream at studying acting in New York City. She returned back to Australia in 2017 after studying and travelling on and off for the past 9 years and now resides in Brisbane working full time as a Senior Biosecurity Officer, as well as spending her spare time volunteering at HFY. Cassandra love kids and is passionate about following your dreams, no matter what!